Happy Friday, all! Today, I share with you why it is so important to eat seafood at least twice a week.
I love seafood! Especially clams, fish, shrimp and scallops. I enjoy an occasional can of tuna ;) Do you enjoy seafood? What are some of your favorite recipes? Share, please :)
According to the USDA, it is important to eat seafood twice a week. This includes fish and shellfish. Skip the fried seafood and choose healthy options. Instead, bake, broil, grill or roast your seafood. Instead of heavy breading, use spices from your pantry to add a little bit of flavor. You can use dill, paprika, Adobo, Lawry's or Old Bay Seasoning. Even a little bit of lemon juice. Add a scoop of tuna salad or crab salad to the top of a fresh salad with lots of vegetables. The options are endless!
So, why is it so important?
Eating 8 ounces of seafood each week can help prevent heart disease. Seafood, especially fish is high in Omega-3s. Omega-3s are not only good for the heart. Omega-3s are good for your nervous system. Omega-3s help develop the nervous system in infants and children. Seafood may can help with tissue inflammation as well as alleviate the symptoms of rheumatoid arthritis.
Pick fish that are low in Mercury but high is Omega-3s. It does not have to cost you a pretty penny to eat seafood twice a week. Look through your grocery store flyers to see what is on sale, buy frozen or search online for printable coupons.
Don't forget to cook seafood thoroughly. Discard any clams or mussels that do not open or snap shut when tapped with a fork. Cook fish to 145° F, until it flakes with a fork. Cook shrimp, lobster, and scallops until they are opaque (milky white).
Remember- portion sizes!
Fresh Baby has a bunch of awesome seafood recipes on their site. Check it out
HERE
. Here is a recipe that I love:
http://freshbaby.com/recipes/recipe_view.cfm?id=238#.VjODAbtdE5s
ENJOY :)
A Recipe for Healthy Shrimp Adapted by Health.com: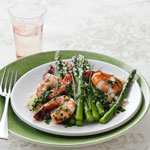 Citrusy Shrimp with Asparagus
Prep Time: 10 minutes
Cook Time: 6 minutes
Total Time:
Yield: Makes 4 servings (serving size: 4-5 shrimp, 1 cup couscous, and about 7 asparagus stalks)
Ingredients
2 cups

water

1 cup

dried couscous

1/2 teaspoon

sea salt, divided

1/2 teaspoon

black pepper, divided

4 tablespoons

fresh lemon juice, divided

3/4 pound

raw large shrimp (about 18), peeled and deveined

1 tablespoon

fresh lime juice

3 1/2 teaspoons

extra-virgin olive oil, divided

2

minced garlic cloves

Olive oil cooking spray

3/4 pound

asparagus spears, trimmed

1 teaspoon

honey

1/4 cup

chopped chives
Preparation
1. Bring 2 cups water to a boil in medium saucepan. Remove from heat, and stir in couscous; cover and let stand for 5 minutes. Fluff with a fork; stir in 1/4 teaspoon each salt and pepper and 1 tablespoon lemon juice.
2. Bring another pan of water to a boil.
3. Meanwhile, toss shrimp in 1 tablespoon each lemon and lime juice, 1 1/2 teaspoons olive oil, garlic, and remaining 1/4 teaspoon salt and pepper. Marinate for 5 minutes.
4. Preheat grill pan or grill. Lightly coat with cooking spray; grill shrimp, turning once, 3 minutes or until just cooked through. Cover and keep warm.
5. When water is boiling, add asparagus, and cook 3 minutes or until just tender. Drain, and cover.
6. Whisk together honey, chives, and remaining lemon juice and olive oil.
7. Arrange couscous and asparagus on serving plates, and top with shrimp. Drizzle with dressing.
Nutritional Information
| | |
| --- | --- |
| Calories per serving: | 282 |
| Fat per serving: | 5g |
| Saturated fat per serving: | 1g |
| Monounsaturated fat per serving: | 3g |
| Polyunsaturated fat per serving: | 1g |
| Protein per serving: | 20g |
| Carbohydrates per serving: | 39g |
| Fiber per serving: | 3g |
| Cholesterol per serving: | 126mg |
| Iron per serving: | 3mg |
| Sodium per serving: | 451mg |
| Calcium per serving: | 51mg |
**This post was sponsored by Fresh Baby and USDA Choose My Plate.